Election 2022
Click Here to Contribute to Jerry's Campaign
Hello JeffCo,
In the 21st century, the public deserves accessible, engaged, and transparent elected officials. I am that elected official – every day! I am always working for Jefferson County, JeffCo families, businesses, and YOU! Also, my commitment to you is that if I am re-elected this November, I will NOT be running for another office mid-term. I am committed to the Treasurer's Office and to JeffCo citizens for the entire four-year term.
As you know, I was elected Jefferson County Treasurer in the November 2018 election. Since taking office, my staff and I have been making great strides in improving several areas of the JeffCo Treasurer's Office.
Due to the 2020-22 pandemic, it has taken resiliency to assist Jeffco taxpayers and to keep our County and special districts funded to provide vital services.
The virus has affected taxpayers physically, mentally, and financially. Many citizens have lost their jobs, their businesses and/or have been furloughed causing a financial strain on personal budgets. Thanks to House Bill 20-1421 (https://leg.colorado.gov/bills/hb20-1421) and Senate Bill 21-279 (https://leg.colorado.gov/bills/sb21-279), which I supported and testified on, my department and I worked with taxpayers in 2020 and 2021 on waiving interest on late payments and accepting payment plans on property taxes for residential and commercial properties. We made every effort to assist property owners in paying their property taxes in JeffCo.
In 2020, my department distributed CARES Act Funds and other COVID grants to local businesses and non-profits based on the criteria from the federal government and the Jefferson County Commissioners. I will continue to support and work with taxpayers and our special districts in 2022 and beyond. We are all in this together. Let's do our best to protect each other and each other's mental and financial health in 2022 – shop local and live local.
Success Stories:
Fiscal Transparency – The new Treasurer's Office financial reporting system, which includes the General Fund, Treasurer's Budget and Quarterly Investment Portfolio, is now available on the JeffCo Treasurer's webpage at www.jeffco.us/809/Treasurer under "Financial Reports" and "Treasurer's Notes".
Efficiency – I have reduced the Treasurer's Office expenses by $107,000 in 2020 and by $100,000 in 2021. Beginning in 2020, to save taxpayer dollars on mailings (and some trees), my office mails out one, not two, annual Property Tax Notices. We continually cross-train within the Treasurer/Public Trustee Department to enhance customer service for the public.
Customer Service – Our office is making every effort to have phone calls answered by a live person, and to return all voicemails by the end of the same business day. Our office hours have been adjusted to 7:30 am – 5:00 pm.  We have also added a "Chat" function on the JeffCo Treasurer webpage, https://www.jeffco.us/809/Treasurer .
Breaking Down Silos – The Treasurer's Office is communicating with the public, the County Commissioners and other JeffCo departments more than ever before. Additionally, the Treasurer's Office is supporting the Clerk & Recorder and the Sheriff's Office with banking services and internal financial services, such as money orders for the County Clerk's Office for passports. See https://www.jeffco.us/3834/Treasurers-Notes  or  https://www.jeffco.us/3815/Financial-Reports.
Public Trustee Duties – I have assumed additional duties and staff as the Public Trustee pursuant to HB 19-1295 (https://leg.colorado.gov/bills/hb19-1295). Commencing on July 1, 2020, the County Treasurer for each Class 2 county (Adams, Arapahoe, Boulder, Douglas, El Paso, Jefferson, Larimer, Mesa, Pueblo and Weld) became the Public Trustee for their county.  For more information, please see the JeffCo Public Trustee webpage at https://www.jeffco.us/807/Public-Trustee.
 
I am running for re-election in 2022!
If you are interested in making a campaign contribution to support my re-election in 2022, please visit my website at www.jerryditullio.com and click on the Donate button located on the right of the page, or click here to donate: https://secure.actblue.com/donate/jdttreasurer.
You may also mail a personal check (corporate or business checks not allowed) to:
Citizens to Elect Jerry DiTullio
4465 Kipling St., Suite 103
Wheat Ridge, CO 80033
Payable To: Citizens to Elect Jerry DiTullio
Any amount will help – $250  $100  $50  $25.  As always, I will represent you and will work to safeguard your hard-earned tax dollars. Thank you!
Sincerely,
Jerry DiTullio
JeffCo Treasurer/Public Trustee
720-253-6785 (personal cell)
---
Election 2018
2018 Election Official Final Results
Hello Jefferson County Taxpayers!
Elections are gearing up! It's imperative we get the word out about Jerry's commitment, transparency and dedication to the public process and fiscal transparency of taxpayer money in Jefferson County. Please help us get the word out and send your contribution today!! 😉
Click Here to Contribute to Jerry's Campaign
Click Here to Request Jerry DiTullio for Jeffco Treasurer Yard Signs
---

Dear Jefferson County Taxpayers & Voters,
I am the Democratic candidate for Jefferson County Treasurer in November of 2018.
My background and experience includes being a former Mayor and a former member of City Council for the City of Wheat Ridge. I am currently the elected Treasurer, since November of 2015, for the City of Wheat Ridge. I am also a teacher at Wheat Ridge High School (WRHS) in Jefferson County. 
I haven't met a Democrat, Republican or Unaffiliated who doesn't want their hard-earned tax dollars managed and invested properly, and legally, via the Colorado Revised Statutes-Title 39.
I have the background and experience to do the job for the taxpayers of Jefferson County. As the elected City Treasurer for the City of Wheat Ridge, I understand the job. I understand transparency and win-win public policy. I will work with the Jefferson County Commissioners to help move the County forward in a fiscally responsible manner. Thanks for the vote of confidence – I'm your Treasurer!  Peace.
---
Election 2015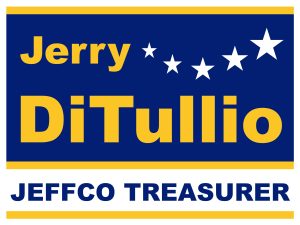 ---
Election 2017
2017 Election Official Final Results
2015 Election Official Final Results
Swearing In Ceremony
Election 2014
Vote "Yes" on Wheat Ridge Fire Protection District Ballot Issue A
Listen to the message >>
Reminder to Vote "Yes" on Wheat Ridge Fire Protection District Ballot Issue A
Listen to the message >>
Election 2013
Dear Wheat Ridge Neighbors,
I am looking forward to working with you the next four years and moving Wheat Ridge forward. I am honored that District 1 residents continue to place their trust in me to represent them in a fair and equitable manner. If you have any issues please feel free to contact me at 303-231-1392 or visit my website at jerryditullio.com. Thank you!! Click to hear the entire message >>
2013 Election Official Final Results
Jerry's Declaration of Candidacy
"Jerry is a thoughtful and intelligent candidate with broad experience. He will be an advocate for protecting our neighborhoods from high density residential redevelopment. Jerry does believe in sustainable and sensible redevelopment in Wheat Ridge without harming our diverse neighborhoods. As always, Jerry will strive to preserve the hometown feel of our community."
– Susan Seeds, Wheat Ridge Resident, District I
---
Vision, Leadership, Experience and the Proven Ability to Get Things Done!
"Too often we enjoy the comfort of opinion without the discomfort of thought."
– John F. Kennedy