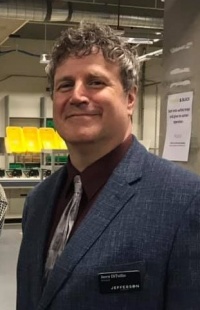 Hello Jeffco,
As you know, I was elected Jefferson County Treasurer in the November 2018 election. Since taking office, my staff and I have been making great strides in improving several areas of the Treasurer's Office.
Due to the 2020-21 pandemic, it has taken resiliency to assist Jeffco taxpayers and to keep our County and Special Districts funded to provide vital services.
The virus has affected taxpayers physically, mentally, and financially. Many citizens have lost their jobs, their businesses and/or have been furloughed causing a financial strain on personal budgets.
Thanks to the Governor's Executive Orders and House Bill 20-1421 in 2020, my department and I worked with taxpayers in 2020 on waiving all late payment interest and accepting multiple payments on property taxes for residential and commercial properties. We made every effort to assist property owners in paying their property taxes in Jeffco.
Due these efforts, 2020 property tax collections were less than 1% less than 2019 collections. The 2020 tax lien sale was about 100 properties less than 2019, which is good news. In 2020 we had approx. 400 payment plans, and all were paid in full except for 10. I have also been distributing CAREs Act Funds and other COVID grants to local businesses and non-profits based on the criteria from the federal government and the County Commissioners.
I will continue to support and work with property owners in 2021. We are all in this together. Let's do our best to protect each other and each other's mental and financial health in 2021 – shop local and live local.
Other Improvements:
Efficiency – I have reduced the Treasurer's Office expenses by $107,000 in 2020 and by $100,000 in 2021. Beginning in 2020, to save taxpayer dollars on mailings (and some trees), my office mails out one, not two, annual Property Tax Notice. We continually cross-train within the Treasurer/Public Trustee Department to enhance customer service for the public.
Customer Service – Our office is making every effort to have phone calls answered by a live person, and to return all voicemails by the end of the same business day. Our office hours have been adjusted to 7:30 am – 5:00 pm.
Breaking Down Silos – The Treasurer's Office is communicating with the public, the County Commissioners and other Jeffco departments more than ever before. Additionally, the Treasurer's Office is supporting the Clerk & Recorder and the Sheriff's Office with banking services and internal financial services, such as Money Orders for the Clerk's Office for passports.
Public Trustee Duties – I have assumed additional duties pursuant to HB 19-1295 – The County Treasurer is also the Public Trustee. Commencing on July 1, 2020, the County Treasurer for each Class 2 county (Adams, Arapahoe, Boulder, Douglas, El Paso, Jefferson, Larimer, Mesa, Pueblo and Weld) became the Public Trustee for their county. For more information, please see the Jeffco Public Trustee webpage at https://www.jeffco.us/807/Public-Trustee.
Fiscal Transparency – The new Treasurer's Office financial reporting system, which includes the General Fund, Treasurer's Budget and Quarterly Investment Portfolio, is now available on the Jeffco Treasurer's webpage at www.jeffco.us/809/Treasurer under "Financial Reports" and "Treasurer Notes".
View list of projects and issues that Jerry has initiated and/or strongly supported >>
Vision, Leadership, Experience and Proven Ability to Get Things Done!
"It is not the strongest of the species that survives, nor the most intelligent, but the most responsive to change (including government and politics)." – Charles Darwin